The choice of tailor-made, adaptation and integration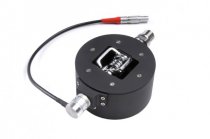 Pedal sensors
Resulting from researches in biomechanics, this crank sensor is a cycling-specific instrumentation particularly adapted to pedaling analysis.
This pedaling sensor offers the opportunity to measure effort generated by a cyclist thanks to a 6-component sensor integrated under the clipless pedal of a cycle (the biomechanical sensor can be adapted to any clipless pedal).
Location of the pedals:
- squares specific to optoelectronic systems (I-Crankset-1),
- position encoders on the crankset and at the end of the pedal spindle (I-Crankset-2).
To download