The choice of tailor-made, adaptation and integration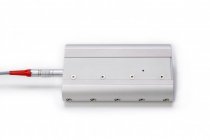 Power Grip Manipulandum
The Power Grip Manipulandum is a force-torque sensor proving to be an indispensable tool for the study of subjects gripping functions.
This biomechanical sensor allows measuring the grip tightening effort between the palm of a hand and its fingers during the grasping task.
It is also an ergonomic sensor; this is why it can be used with healthy as well as motor disable subjects, whatever measuring keen or heavy grip tightening effort.
This grip sensor integrates a biofeedback in real time which provides accurate diagnosis of the gripping function (personalized rehabilitation program, before/after surgery assessment and before/after rehabilitation assessment).
To download