The choice of tailor-made, adaptation and integration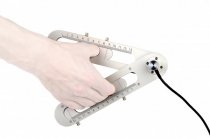 Power Pinch Manipulandum
Measurement device of the hand resulting from researches in biomechanics, this instrument of diagnosis allows measuring the fingers joint amplitude between the fingers and the thumb during gripping task and/or clamping effort.
This grip sensor indispensable for the study of the gripping task is used with healthy as well as motor disable subjects.
This ergonomic sensor integrates a biofeedback in real time which provides accurate diagnosis of the finger motion (personalized rehabilitation program, before/after surgery assessment and before/after rehabilitation assessment).
The Power Pinch Minupulandum was created in partnership with Mr. Didier PRADON PhD in Biomechanics, Doctor Nicolas Roche University Professor and Hospital Practitioner, of the Laboratory of Movement Analysis of the University Hospital Raymond Poincaré in Garches and SENSIX.
To download